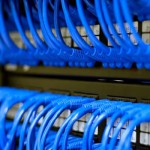 Lucas Communications installs and supports high performance voice and data networks for large and small businesses across the North of England.
Network downtime is frustrating and can be extremely costly to your business. Modern computer networks should be reliable, flexible and help make your business more efficient. For this reason, it is essential that you entrust the installation and support of your voice and data network to the experts. We are the experts…
For many years we have been providing our business customers and trade partners with these services throughout mainland UK.
Our partnerships with the market-leading vendors, including Brand Rex, Connectix, HellermanTyton and Excel ensures that Lucas can provide you with quality products and an excellent after sales service.
Our many years experience within the educational and health sectors, councils, LEAs and all sizes of private businesses ensure that you could benefit from Lucas Communications expertise and experience with new-generation voice and data cabling systems and wireless networks from Meru, NetGear, Ruckus & SonicWALL.
Our Schools portfolio includes the supply and installation of interactive whiteboards from leading companies such as Clevertouch, CTOUCH, Promethean and SMART Boards.
Lucas also provides a seamless service for the trade. Enabling computer resellers, system integrators, software houses, EPOS installers, and electrical contractors etc, to deliver a high-quality service without having to carry additional staffing overhead. One area our trade partners often use us for is emergency fibre optic cable repairs with a fast response and a guaranteed service.
Our projects are delivered on time, within budget and with the professionalism that you'd expect from a company with a reputation second to none. Contact us on 01706 217755 to find out more, or click here and we'll get back to you.